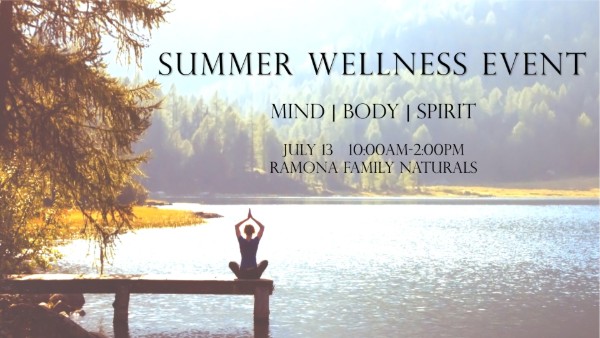 Come see what's new in health and well-being at Ramona Family Naturals. This is a FREE EVENT!
We are partnering with our Best Selling Brand Representatives to offer you discounts, free samples of wellness products and the best educational resources.
Attend our event and enter to win amazing product gift baskets!
Discussions:
11am – Hemp Derived CBD: Just the Facts with Stuart Tomc of PlusCBDoil
1pm – Doing Keto Right to Reduce Pain and Inflammation with Dori Smith
Chair massage, provided by Jessica Silva and Joanna Yanez will be available for $1/minute.
We look forward to helping you with your health-related goals. Hope to see you there!
Partners In Health:
Aloe Life
Carlson Labs
Buried Treasure / Life Line Foods
Flora
Jack N' Jill Kids Natural Care
The Natural Family Co.
Natural Factors
Om, Organic Mushroom Nutrition
PlusCBDoil
Local Services/Support Representation:
Holistic Moms Network: Ramona, CA Chapter
True Wellness Today
Vista Hill SmartCare
Additional Inquiries:
Contact Aubry at aubry@ramonafamilynaturals.com